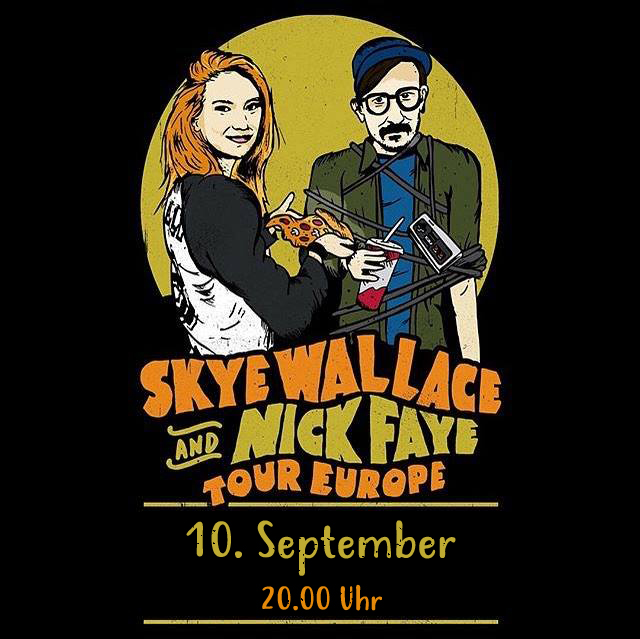 Skye Wallace und Nick Faye sind auf Europa Tour und spielen am 10.9. Live in der Schlüsselstelle.
SKYE WALLACE Skye Wallace (Toronto, CAN)
MUSIC: https://skyewallace.bandcamp.com/
VIDEO: https://www.youtube.com/watch?v=cFJSjc1lgvk
Skye Wallace is what happens when a classically trained singer with east coast roots discovers punk rock in their youth. Hailed coast to coast as a "national treasure" (Sad Mag), Skye Wallace is based out of Toronto, Ontario.
Her voice and sound, accompanied by her full band, is a force to be reckoned with. Her newest album Something Wicked, produced by Jim Bryson, was listed as one of Vancouver Weekly's Best Albums of 2016 and CBC's Top 8 Albums You Need To Hear This Month. Dubbed by CBC's Stephen Quinn a "kick ass record", Something Wicked will "burn you to the ground" (Vice/Noisey)
Nick Faye of Nick Faye and The Deputies (Regina, CAN)
MUSIC: https://nickfaye.bandcamp.com/
VIDEO: https://www.youtube.com/watch?v=KtbuBy_4QVc
Nostalgic and familiar, Nick Faye is a singer-songwriter from the deepest depths of the Canadian Prairies (Regina, SK). Faye has been writing late-90's inspired pop-rock songs drenched in Canadiana for almost ten years with his band, Nick Faye & The Deputies. Faye consistently delivers high energy live performances and has become renown for his comedic and outlandish stage banter. Nick Faye & The Deputies are set to release their third studio full-length, Stumbling Distance which was produced by Juno/Polaris award winning producer Michael Philip Wojewoda (Barenaked Ladies, Buffy Sainte-Marie, Amelia Curran) on April 17, 2018.
"If former tourmate Colter Wall is a Prairies Johnny Cash, and (Andy) Shauf is their Elliott Smith, then perhaps, given time, Faye could be their Tom Petty." – THE LINE OF BEST FIT (UK)
"The attraction to this show was the music, of course, but also Faye himself, who was much more than an artist, but a performer, talking to the crowd, asking for questions and regaling tales of home. Top behaviour and thoroughly enjoyed." – GETINTOTHIS (UK – review of our FOCUS Wales set)